York Brewery & Meeting Rooms (York)35
Videos, Pictures & Comments
Possible electronic voice phenomenon whilst using ouija board at York Brewery & Meeting Rooms (York) ghost huntPossible electronic voice phenomenon whilst using ouija board at York Brewery & Meeting Rooms (York) ghost hunt
may 2015 ghost hunting at York brewery

It was great to see a lot of familiar faces at York brewery and meeting rooms. Most of our guests had been ghost hunting with us before so they knew what to expect and where very good at keeping the energy going. The sound of heavy footsteps being heard in the meeting rooms are a known thing but what we heard was stamping on the floor in front of us. This happened again later to the point that that floor was actually vibrating quite a bit. I think we might have saved the best room till last (the bar) as we did a human pendulum and the girl in the centre of the circle seemed to be getting not just gently pushed but sometimes shoved forwards and backwards. At this point the K2 meters where spiking and a table had apparently moved by itself in the corner of the room.
York Brewery & Meeting Rooms (York)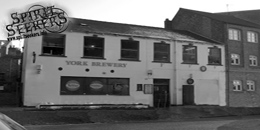 12 Toft Green , York , Nth Yorkshire YO1 6JT. (FREE PARKING @ Albemarle Rd YO23 1ep
Map
9pm - 2am
19 places left


Friday 13/04/2018
£31 per person

Step back in time into a labyrinth of 18th century rooms through the former morgue (the brewery) and into the former vicars home (a large 3 story building known as the meeting rooms). It's a dark malevolent entity that is said roam the corridors. He has been seen by multiple people and is described as wearing a tall hat and being abnormally thin. He slams doors as he goes and makes loud noises giving people the impression that they are not welcome here.