Haunted West Yorkshire - Paranormal Events West Yorkshire
Spirit Seekers for paranormal events throughout West Yorkshire.
See below to book our upcoming West Yorkshire ghostly events.
Scroll down for events or select your area.
Haunted Objects Museum (Rotherham)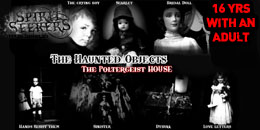 70 Broad St, Rawmarsh, Parkgate, Rotherham, South Yorkshire, S62 6EQ
View Map
10pm - 3am
6 places left


Saturday 06/02/2021
£35 per person

Built in the 1880s it was once the home of a miner that is said to have died in a fire. Following multiple stories of paranormal activity it's now been turned into a museum displaying some of the world's most haunted items. Mannequins and dolls have been seen moving on their own. Scratches have been found on the walls and handprints in mirrors. Loud banging can be heard along with groaning sounds, whistling, talking and singing. Items fly off shelves and people have been scratched. Shadowy figures and the image of a woman have been seen. It's become known to some as the Rotherham poltergeist house or even the Hell house.
Knottingley Town Hall (Wakefield)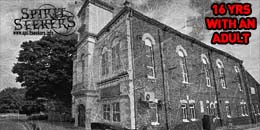 Hilltop, Headlands Ln, Knottingley, wakefield , West yorkshire WF11 9DG
View Map
9pm - 2am SOLD OUT
0 places left


Friday 19/02/2021
£42 per person

Featured on TVs Most haunted. Built in 1865 in the vicinity of land once used for Saxon burials, witchcraft and pagan rituals. It also sits on what was once a medieval monastery. In the past these dark, foreboding rooms have been used to store dead bodies. A malevolent energy here is known to fiercely move door handles and throw glasses from shelves. People have been grabbed and tables can be seen moving on their own. Groaning and muffled voices are also heard. Ghostly children are seen along with spectral shadows resembling monks and ladies dressed in wartime clothes.
Royal Hotel (Hull)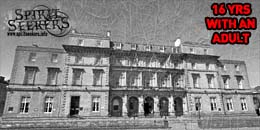 170 Ferensway, Hull, East Yorkshire, HU1 3UF
View Map
10pm - 3am
3 places left


Friday 19/03/2021
£29 per person

Built in 1849. It's had royal guests such as Queen Victoria but also infamous criminals and murderers. 10 of those being 'Jack the Ripper suspects'. There have been fires here, world war bombings and mysterious deaths. Some say they have seen and heard a ghostly band playing music in this building. An old fashioned waiter has also been seen and a Victorian bellboy. Childlike laughter is often heard along with the image of 2 children running around. A frightening large black mass has also been seen to emerge in front of people.
Bancroft Mill Engine Museum (Barnoldswick)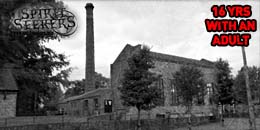 Gillians Lane, (off Colne Road), Barnoldswick, Lancashire, BB18 5QR
View Map
9pm - 2am
13 places left


Saturday 27/03/2021
£36 per person

A steam-powered cotton-weaving mill built in 1920. Many claim to have witnessed paranormal activity in these old buildings. Quite frequently, shadowlike figures can be seen going from one room to another. Chains will move on their own with sounds of footsteps and banging on pipes. There seems to be a negative energy sometimes and items will be thrown across rooms. It's suggested that the spirit of a former engineer haunts certain parts and sometimes takes a bit of a dislike to visitors.
Fleece Inn (Elland)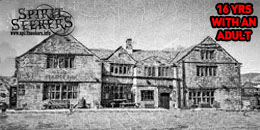 Westgate, Elland, West Yorkshire HX5 0BB
View Map
10pm - 3am SOLD OUT
0 places left


Saturday 15/05/2021
£35 per person

Featured on TV's Most haunted. It dates back to 1610 and was once used as a vicarage. It has a history of murder and is considered one of Britain's most haunted inns. Violent poltergeist activity has been witnessed with items of furniture and glasses being thrown. People have heard scratching on the walls, constant knocking, old fashioned music, voices and walking on the stairs. Apparitions of a young girl and many dark figures have been seen. It also sits on land known for sightings of a headless horseman.
Millom palladium (Millom)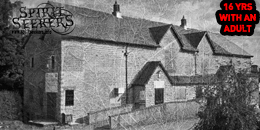 St Georges Rd, Millom , Cumbria, LA18 5DW
View Map
10pm - 3am
16 places left


Saturday 09/10/2021
£22 per person

Opened as a recreation Hall in 1912. Primarily used to host cinema screenings and of course numerous stage shows entertaining many visitors throughout the years. Today, people have experienced uneasy feelings here. Footsteps are heard with a sound of chatter and unusual knocking. Images of a woman, a child and strange lights have been seen. Whilst sitting in the chairs people have heard eerie laughter, unusual scraping sounds and most creepy of all a male voice telling them to move.