Haunted North East England - Paranormal Events North East
Spirit Seekers for the best in haunted events in North East.
See below to book our upcoming North East paranormal events.
Scroll down for events or select your area.
North East Aircraft Museum (Sunderland)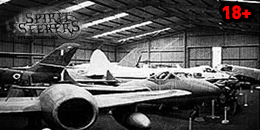 Old Washington Road, Sunderland, SR5 3HZ
View For Map
10pm - 3am
24 places left


Saturday 06/10/2018 - £
33 per person

Featured on TVs Most haunted. First used as an airfield in 1916 & went on to play an key role in the defeat of the German army. Paranormal attachment here is rife. Stones are thrown & dark shadows seen in all of the large hangers. wartime music is heard & a sergeant who met an tragic, untimely death is frequently seen & heard.
Blue Bell Hotel (Belford)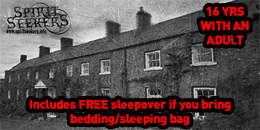 Market Place , Belford, Northumberland, NE70 7NE
View For Map
10pm - 3am
16 places left


Saturday 13/10/2018 - £
31 per person

A former coaching inn dating back to 1763. It's now said to be haunted by a maid that he walks through walls and throws objects at those unlucky enough to get in her way. Staff members and visitors have heard doors slamming, whispering and other unusual sounds coming from empty rooms. Items have fallen from the walls, glasses have flown across the room and people have been physically pushed against the bar.
Annison funeral parlour (Hull)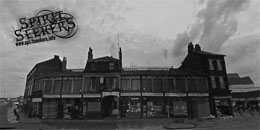 124-127 Witham, Kingston upon Hull, East Riding of Yorkshire HU9 1AT
View For Map
8pm - 1am
20 places left


Sunday 14/10/2018 - £
46 per person

Featured on TVs Most haunted. 100s of bodies passed through this mortuary since its creation in 1870. To add to its creepy past it sits on the site of a former 16th century prison and has a large connection to an unsolved Victorian murder. Some have been terrified here by sounds of disembodied voices, dragging noises, groaning, loud bangs, moving furniture and images of a man crawling along the floor.
Railway Arms (Brotton)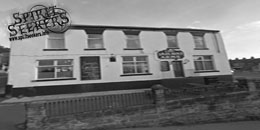 High St, Brotton, Saltburn-by-the-Sea, TS12 2SP
View For Map
10pm - 3am
9 places left


Friday 26/10/2018 - £
22 per person

Built 1886 as an inn for weary travelers of the newly created railway network. Staff, locals & performers witnessed orbs of light pass throughout the building & heavy footsteps upstairs but there have been many accounts of dark shadowy figures & headless bodies, furniture moved and a faceless man seen to sit on tables and walk through walls and disappear at night.
Ancient Unicorn Inn (Barnard Castle)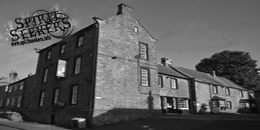 The Street, Bowes, Barnard Castle, County Durham, DL12 9HL
View For Map
9pm - 2am
18 places left


Saturday 27/10/2018 - £
31 per person

Dating back to the 1500s this hotel once accommodated for the likes of Charles Dickens and inspired his writings. The building itself is home to its own sad but true life tale involving the untimely death of 2 young lovers. It is their spirits that have been seen, heard and felt to this day along with sightings of a young boy down in the cellar, a Victorian woman and a man wearing a bowler hat
Durham City Ghost Walk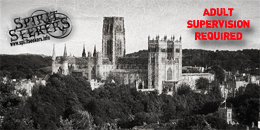 Durham Crown Court, Old Elvet, Durham, county durham DH1 3HW
View For Map
6pm - 7pm
18 places left


Sunday 04/11/2018 - £
6 per person

Durham ghost walk includes a history going back to 687AD. It incorporates Durhams Cathedral, Castle, prisons and its most haunted inns. Explore tales of ghostly monks and notorious criminals with creepy stories of tunnels, executions and skeletons. AS THIS IS NOT A REGULAR EVENT, STORIES WILL BE SCRIPT READ
Whitworth Hall Hotel (Spennymoor)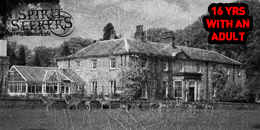 Stanners Ln, Spennymoor, County Durham DL16 7QX
View For Map
8pm - 1am
20 places left


Sunday 04/11/2018 - £
31 per person

A former family mansion with parts dating back to 1652. Its said to be haunted by sightings of its famous, former owner 'Bonny Bobby Shafto' and a lady dressed in Black. A sudden coldness can be felt in this building, growling noises have been heard and items are known to fly off shelves. People have experienced strange feelings here causing them to physically fall to the ground.
Ship Isis (Sunderland)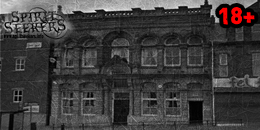 26 Silksworth Row, Sunderland, Tyne and Wear SR1 3QJ
View For Map
10pm - 3am
13 places left


Friday 30/11/2018 - £
31 per person

Mary Ann Cotton shes dead and shes rotten. Within the walls of this 19th century inn its believed that the remains of 2 murdered children still lay, Victims of Britains first serial killer, Mary Ann Cotton. Its also considered by many to be Sunderlands most haunted inn with numerous accounts of singing, crying and screaming being heard echoing from empty rooms where sightings of a young girl and a Victorian woman have left people stunned
Wheatsheaf Hotel (Sunderland)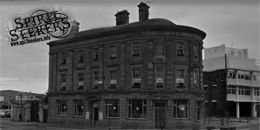 207 Roker Ave, Sunderland, SR6 0BN
View For Map
10pm - 3am
19 places left


Saturday 01/12/2018 - £
31 per person

Created in the 1700s and remodelled in 1897. It's been an important meeting place for local farmers, had many different owners and thousands of guests over the years. It's said that a long time ago a little girl was murdered here and that her figure can still be seen searching for her father. Her father's figure is also often seen searching for the evil highwayman that killed her. People have been too frightened to enter rooms following strange noises and sightings of the highwayman himself.
Lanchester Community Centre (Durham)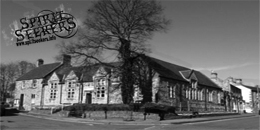 Newbiggin Ln, Lanchester, Durham, County Durham, DH7 0PB
View For Map
10pm - 3am
20 places left


Saturday 08/12/2018 - £
35 per person

A former school which dates back to 1875 has been host to some horrifying experiences since reopening as a community centre. Some have experienced a sense of dread with an awful feeling of being watched. People have been pushed or even scratched by something that they cannot see. Sounds of footsteps have been heard walking up and down and the apparition of a lady dressed in white has been seen in different parts of the building.
Grand Hotel (Scarborough)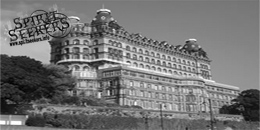 Saint Nicholas Cliff, Scarborough, North Yorkshire YO11 2ET
View For Map
10pm - 3am
15 places left


Saturday 19/01/2019 - £
35 per person

Built in 1867 to accommodate for most noble of guests. It was 1 of the largest hotels in the world with 365 rooms representing each day of the year. Todays visitors have commented on strange encounters & some have even left after witnessing items flying across their rooms & objects falling from walls, doors vigorously shaking & knocking with no one on the other side. Sounds of screaming, singing & laughter are heard & most commonly old fashioned music. Various apparitions are seen but none more so frequent than the lady wearing a long red dress.
Morecambe Winter Gardens (Morecambe)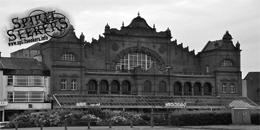 209 Marine Rd Central, Morecambe, Lancashire, LA4 4BU
View For Map
10pm - 3am
18 places left


Friday 25/01/2019 - £
46 per person

Featured on TVs Most haunted. Created in 1897 as one of the largest theatres in the country. Host to a variety of famous acts and used as an RAF training facility during the war. It's haunted by its former architects, an Edwardian woman that died on the stairs, shadows that engulf and terrify people, a malevolent entity known to terrorise with vicious attacks, a former caretaker that will aggressively push people and a past manager that's violently opposed to any visitor. The theatre has one side good and one side very evil.
Consett & District YMCA (Consett)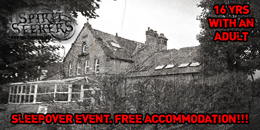 5 The Derwent Centre, Consett , County Durham DH8 5DL etc
View For Map
10pm - 10am FREE ACCOMMODATION
28 places left


Saturday 26/01/2019 - £
43 per person

Built in 1877 as an infirmary, operating theatre & mortuary. Created to deal with injuries or even deaths of workers from the Iron company. It was also built on the site of what was once a hanging ground for criminals & those accused of being witches.  Perhaps this has helped to enhance the strange phenomena here such as muffled voices, ghostly mists & sightings of a male spirit that likes to move things.